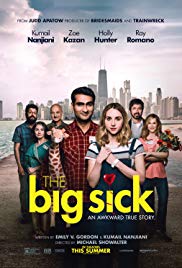 I've been meaning to watch this movie for a while. Kumail Nanjiani of Silicon Valley fame stars in this comedic drama. Check out the score on Rotten Tomatoes, a whopping 98%. Might as well have the backing of the Pope with a score like that.
At the outset it felt a little slow, but picked up and the character development carried the title through the final credits. The actress playing Emily was quite good and the whole experience as the movie dove into the strangeness of hospitals, especially so early on in a serious relationship, felt authentic and evocative. There were spots where the movie had me laughing, mostly due to the absurd situations (the cigar box of female headshots from failed arranged meetings), especially when it came to the family dynamics. Strangely the laughs weren't realized during the standup bits. It was good to Bo Dunham as I've been a fan of his for a while.
Kumail's character goes through a great transformation. One that felt meaningful for a movie and the pace it set. There was a lot touched on, including arranged marriages, spirituality and religion, honesty, and motivation.
I'd recommend this one. If you have Amazon Prime, it's available to stream for free.